NDA Shipwrecks Symposium Update

With the cancellation of the 2020 show this past March and the resulting financial loss, the NDA was uncertain if the club would be able to stage future shows.

We are happy to announce that the future of the show has been saved due to the overwhelming support of our attendees!

A majority of those registered have either donated the cost of their ticket to offset this year's expenses or asked us to hold it as a credit for the next show. With this support, financially the show will be able to continue and we would like to thank the whole diving community.

For the past 26 years our show has been held each spring to kick off the dive season in Ontario, with the date announced in the preceding fall. With the onset of the COVID-19 Pandemic Second Wave the Niagara Region School Board is not taking bookings for their venues for this school year. Based on this uncertainty we are unable to set a future show date at this time.

As soon as the Ontario Government and the Chief Medical Officer deem it safe to hold large shows again, the NDA will announce a date for the return of Canada's largest Shipwreck Show.
SHIPWRECKS/2020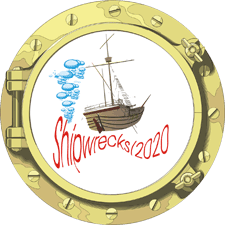 The Niagara Divers' Association will present its 26th Annual Shipwrecks Symposium, "Shipwrecks/2020" on Saturday, March 14, 2020 at Centennial High School, 240 Thorold Road, Welland, Ontario. This is the same location we have used for the last 23 years and features an 1100 seat auditorium with theater style seating and an excellent sound system.
As in the past, we have plans for numerous multimedia presentations by both world renowned and local speakers. Lunch, refreshments and door prizes will be included. Speakers will have tables and meet with guests during breaks and lunch. A display area is available for non-profit diving related groups and Gold Level sponsors.


Planning for our 26th annual one-day symposium on shipwrecks, Shipwrecks/2020 is complete.
ALL PRIMARY PRESENTATIONS HAVE BEEN SELECTED AND ARE NOW POSTED ON OUR SPEAKERS & PRESENTATIONS PAGE.