Name of Wreck: Stonewreck, formerly listed as the "J.G. McGrath"until the McGrath was found by Doug King. Information listed below is for the McGrath which is very simular in size and date.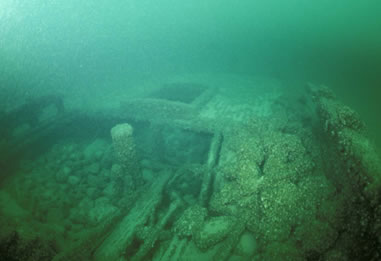 Photos by Geoff Barker
Organizing Group: Niagara Divers' Association
Official Number:
Nation of Registry: Canadian
Construction Details

Year Built: 1870
Built At: St. Catharines, Ontario
Built By: Shickluna
Vessel Type: Wooden
Rig: Two-masted schooner

Dimensions

Length: 104'
Beam: 26'
Draft: 12'
Gross Tonnage: 219

Description of Loss: Foundered in storm, October 28, 1878
Location: 13.9NM/144.1T Port Maitland, 14.3NM/206.3T Port Colborne.
10.9NM/348.5T Dunkirk.
G.P.S 42-40.076/79-23.780
Depth: 90'
Notes: 2400# block off starboard side. Orange/white mooring buoy when deployed.
General Information:
Two masted Schooner about 110' in length, in 90' of water.
Misidentified as the J.G. McGrath because it looks like a Shickluna design similar to the Sligo.
Most books still refer to her as the McGrath, even though she is the wrong length and cargo.
Return to Lake Erie GPS Location Page
Return to NDA "Lake Erie (Easter Basin) Mooring Project" page