Name of Wreck: Carlingford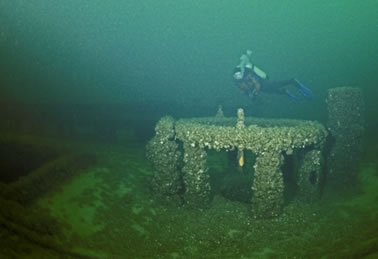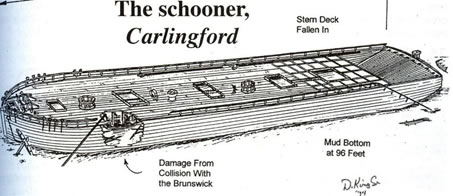 Photos by Geoff Barker. Drawing by Doug King.
Organizing Group: Niagara Divers' Association
Official Number: 125024
Nation of Registry: US
Construction Details
Year Built: 1869
Built At: Port Huron. Michigan
Built By: Fitzgerald
Vessel Type: Wooden
Rig: Three-masted Schooner
Dimensions

Length: 154.58'
Beam: 31.08
Draft: 12.25
Gross Tonnage: 470
Description of Loss: Collision with steamer Brunswick Nov. 12, 1881
Location: 12.8NM/159.5T Port Maitland, 16.8NM/216.5T Port Colborne
11.5NM/330.1T Dunkirk
G.P.S 42-39.288/79-28.597
Depth: 95'
Notes: One 2400# block off bow. Has orange/white mooring buoy when deployed.
General Information:
3 masted schooner built 1869.
Sank November 12, 1881 after collision with Steamer Brunswick (also sank).
154.5 x 31 x12, 470 gross tons.
Return to Lake Erie GPS Location Page
Return to NDA "Lake Erie (Easter Basin) Mooring Project" page