Name of Wreck: C.B. Benson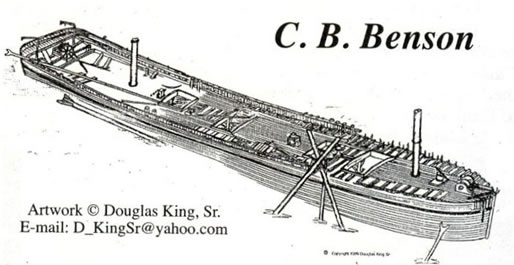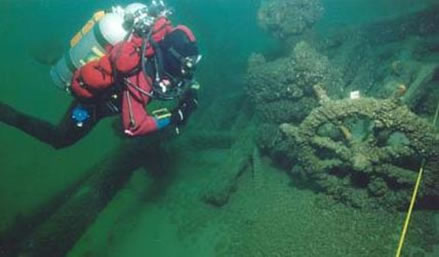 Drawing by Doug King. photo by Tom Wilson
Organizing Group: Niagara Divers' Association
Official Number: 125226
Nation of Registry: US
Construction Details

Year Built: 1873
Built At: Port Clinton, Ohio
Built By: John Duff
Vessel Type: Wooden
Rig: Barquentine, 3 masts

Dimensions
Length: 136'5"
Beam: 26'
Draft: 13'
Gross Tonnage: 299

Description of Loss: Storm October 14, 1893
Location: 6.6NM/176T Port Colborne, 17.5NM/15.2T Dunkirk
G.P.S 42-46.262/79-14.609
Depth: 86'
Notes: 2400# blocks off bow Bow & Stern. Currently only one being used at a time. Marked with orange/white mooring buoy.
General Information:
Built in Port Clinton by the Duff family in 1873.
Maiden voyage was from Toledo OH to Cork, Ireland.
Sailed the Atlantic, down to South America until she returned to the lakes in 1880.
Sank Oct 14, 1893 with loss of 8 lives.
136.5' x 26' x 13' 299 gross tons.
Wreck was surveyed by the NDA.
A member of NDA organized a reunion for 13 Duff Family members in 2002.
Two family members took diving lessons so that they could dive to the wreck.
Return to Lake Erie GPS Location Page
Return to NDA "Lake Erie (Easter Basin) Mooring Project" page