NDA MEMBERSHIP INFORMATION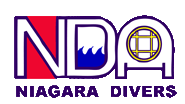 The NDA has one of the most active dive schedules of any club in the province. We typically do 10 to 12 club dive trips a year. Most of our members are very active, so getting out diving is never a problem, with many members doing 100+ dives a year. Club owned safety equipment such as drop tanks and DAN O2 kit are taken on Club dives and are available for members' use when it doesn't conflict with Club functions. We organize a number of social functions including summer picnic, mini golf, Halloween party, Christmas brunch, film nights, and trips to such things as Imax shows, Museum tours (Titanic). Trips to dive shows (Port Huron, Detroit, Oswego, Ohio Bay Area) have also been done in the past. Even summer steam boat cruises and jet boat rides have been planned as club functions.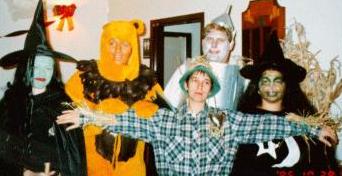 The NDA is also involved in a number of community events. As an example, our booth at the Can-Am event in Port Colborne was set up as strictly an information booth to promote diving in the area and support the local Marine Museum. It was the NDA's involvement with the City of Port Colborne to organize the Archeology course and C.B. Benson survey which kept the wreck open to the public (the Province had intended to restrict it). We also support the Lake Erie Mooring Project and were very involved in fighting Bill 13 (Divers 1, Government 0). We allotted $300.00 to make a replica plaque to replace the one stolen from the Munson's generator in Kingston a couple of years ago.
.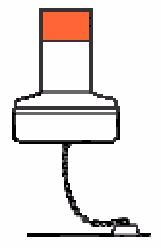 The NDA also supports and holds memberships in other diving organizations such as Preserve Our Wrecks (Kingston), the Tobermory Maritime Association, the Divers Alert Network and the New York State Divers Association.
We hold meetings the first Thursday of every month (7:30 PM ) except July and August at Ricki Jo's Restaurant (see meetings page for dates).These meetings are open to the public, and we try to include a guest speaker or some sort of diving-related presentation. Speakers in the past have included a Conservationist, Police divers, Instructors from Seneca College (commercial diving), scientists from Aquatic Sciences, representatives from dive equipment or camera (Sea&Sea/Sherwood) manufacturers and a number of individuals such as Dr. Steve Brooks (expert on Empress of Ireland) who have information to share.
Our annual Shipwrecks Symposium is now in its 26th year and we again anticipate attendance to be in the 475-500 range.


The NDA web site hosts a great deal of information, not only on the club, but on area diving, mooring project, New York's sturgeon program and of course the Shipwreck Symposium. It has a members' only section which includes such things as membership list, important club forms & info, pictures and current and back issues of our newsletter. Our members mail group allows for quick contact between members as well as automatic reminders of club events , meetings, dives etc.
Below are a number of documents which pertain to club membership. If you have any further questions or concerns, please feel free to contact our Membership Director
2022 Membership Types and Fees
MEMBERSHIP
NOTE: Due to Covid19 and the fact that our meetings are now being held on Zoom and our Club functions and dives are expected to be limited this season we have decided to waive membership fees for 2022. If you complete the On-Line Application Form you will be taken to the Confirmation Page after submission. Ignore the link to the Payment Page for 2022.
a) Full Membership may be taken by all persons 16 years of age or over who are certified divers ($30.00). Family membership is for two certified adults (19 years and over) + certified children (16 to 18 years) living at the same address ($50.00).
b) Associate Membership may be taken by divers in training or by any interested person, diver or non-diver, at the rate of one half of the current membership fee. Divers in training, 16 years of age and older, upon certification, may become full members upon paying the balance of the full membership fee. Associate members may not vote or hold office. Associate members may not dive with the Club unless full membership is taken out or the non-club member fees paid, subject to a) above. ($15.00)
c) Honorary or complimentary membership may be awarded annually to any persons who have rendered distinguished service to the Club. That person or persons name may be presented to the Club membership for approval. Honorary members may not vote or hold office.

Interested In Joining?

You may join the NDA by either using our On-Line Application Form and pay using your PayPal account or any major credit card, or by printing our PDF Application Form and mailing along with a cheque to our P.O. Box address.
The files below are provided in standard PDF documents to ensure proper print format.
Adobe Acrobat Reader is a free software program that lets you view and print Adobe Portable Document Format (PDF) files.

To install the Acrobat Reader, click on the Get Acrobat Reader image above.
Application Form

Policies/Procedures, Rules/Regulations

Constitution and Standing Rules

---
Return to the NDA Homepage
This page and all contents, are Copright © 2019 by Niagara Divers Assocation.Photo's are Copright © of the photographer.